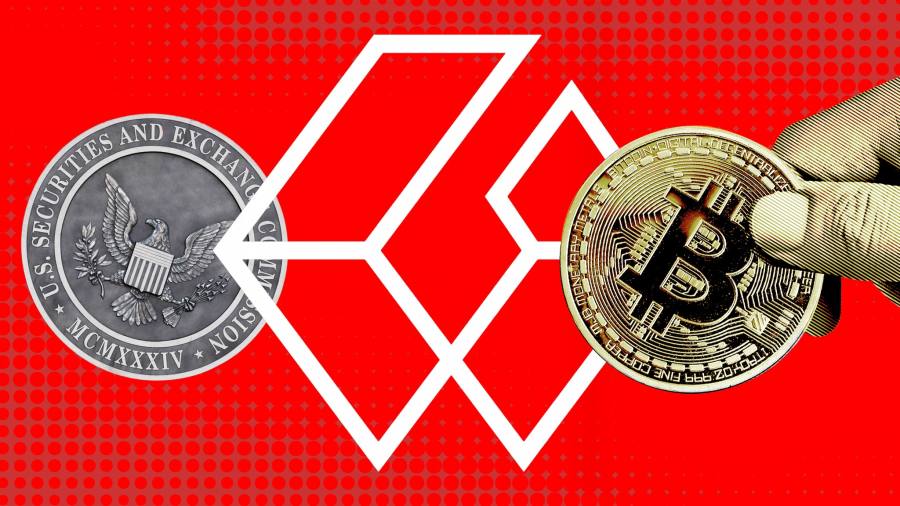 Grayscale wins landmark case against SEC, paving the way for Bitcoin ETFs
Welcome to the latest edition of the FT Cryptofinance newsletter. This week, we take a look at Grayscale's victory in the US courts.
In previous editions of this newsletter, we have reported on the actions of regulators in all areas of the crypto industry, from the largest crypto exchange to obscure lines of code. But this week, the tables have turned.
Asset management company Grayscale, which holds around $17 billion worth of bitcoins, won a landmark case against the Securities and Exchange Commission (SEC) when a court in Washington DC ruled that the regulator had wrongly rejected the company's application to convert its flagship product into a Bitcoin-based exchange-traded fund (ETF).
A spot Bitcoin ETF has become something of a holy grail for the cryptocurrency – a way to trade Bitcoin that is cheap, secure, and wrapped in a well-understood regulatory framework. To say that the crypto market was excited would be an understatement.
"A SEC-regulated Bitcoin ETF would enable the next generation of crypto adoption and allow trillions of institutional capital to move off the sidelines," said Diogo Mónica, co-founder and president of Anchorage Capital.
Bitcoin rose by around 7% following the ruling. I would say that such excitement surrounding the prospect of a traded spot Bitcoin fund occurring at some point in the future reflects the failure of the global financial revolution promised by Bitcoin's founder 14 years ago. Nevertheless, the victory is a rare oasis of optimism for a space that is so often plagued by scandals. Potentially great for the industry, but at what cost for Grayscale?
Even before the tenacious Gary Gensler became chairman of the SEC, the agency had a continuous list of applications for the introduction of a Bitcoin spot ETF. Some had specific reasons, but the SEC has long argued that the underlying asset – Bitcoin – is traded on largely unregulated exchanges, which could be vulnerable to market manipulation. Grayscale won because it focused on the SEC's vulnerability – that the regulatory agency had given the green light to Bitcoin ETFs that track futures on the token traded on the CME. Futures and the underlying assets are closely linked. While the CME can confirm the regularity of its own market and the way prices are formed and fed into it, the underlying market can still be manipulated. Market makers, which arbitrate prices, simply help to close the gap.
Judge Neomi Rao agreed that this stance was strange and described the SEC's rejection of Grayscale's application as "arbitrary and capricious". The ruling did not allow for a spot Bitcoin ETF and only called on the SEC to reconsider the reasons for its rejection.
However, while Grayscale fights against the SEC in court, others have knocked on the agency's door this summer with their own Bitcoin ETF applications. These include BlackRock – the world's largest asset manager – and other well-known names such as WisdomTree and Fidelity.
If the ruling finally opens the door to the recognition of Bitcoin ETFs, Grayscale is likely to compete against a variety of well-known ETF names in the battle for clients. None of them will be associated with the crypto crash of 2022.
"Retail investors and institutions may be equally tied to larger names. If that's the case, Grayscale has made the legal investment to win this case, but after they've kicked in the door, their competitors could just walk through it, trampling on Grayscale's back," said Peter Fox, partner at Scoolidge, Peters, Russotti & Fox, in a phone call.
Perhaps more importantly, these competitors are all accustomed to serious price competition. Grayscale charges a management fee of 2% on the bitcoins it holds – currently valued at around $17 billion. BlackRock, Invesco, etc. are used to charging fractions of this total amount.
Others, like Jeremy Senderowicz from law firm Vedder Price, are more optimistic. "Grayscale has a fairly established name for Bitcoin products and they're starting with an asset base in their fund that no one else has," he said, referring to the fact that Grayscale is one of the largest Bitcoin holders on the planet.
But it is also not hard to imagine companies like BlackRock quickly accumulating their own coin supplies. It is also important to remember that the court's decision does not force the SEC to approve Grayscale's application: as unlikely as it may seem, the regulatory agency could return with an entirely new rationale and once again reject the company's ETF ambitions.
Overnight, the SEC halted all main applications for spot Bitcoin ETFs that were submitted this summer. Nevertheless, the expectation of discovering Bitcoin ETFs in the US is growing.
When the day comes, the SEC is likely to approve several ETFs simultaneously, rather than granting one player a potentially unassailable first-mover advantage.
"This means it will become a game of market share. In terms of percentage share and take rate, Grayscale's revenues are likely to decline significantly," said Ram Ahluwalia, CEO of investment adviser Lumida Wealth Management.
What do you make of Grayscale's court victory over the SEC? As always, send me an email at scott.chipolina@ft.com.
Weekly highlights
Despite a setback in the ETF space, the SEC's push against all things crypto-related continues unabated. On Monday, it accused media and entertainment company Impact Theory LLC of conducting an unregistered offering of crypto asset securities in the form of non-fungible tokens. The company agreed to a cease-and-desist order without admitting or denying the SEC's findings.
On Thursday, industry giant Binance announced that it would be phasing out support for BUSD products and advised users to convert to other stablecoins before February 2024. The news comes as no surprise after New York regulators halted further issuance of BUSD products in February of this year, but it serves as a reminder of the impact of regulatory actions: Binance's share of the crypto trading market has dropped from around 57% to 38% after the New York Department of Financial Services set its sights on BUSD.
Soundbite of the week: Crypto gets its latest cheerleader
Crypto has a new high-profile political supporter: Vivek Ramaswamy. The biotech entrepreneur, who ran for the Republican presidential nomination, caused a stir by calling the climate "agenda" a "lie" and making outlandish promises to fire 75% of all US federal government employees.
Ramaswamy took to social media platform X this week to celebrate Grayscale's court victory over the SEC, suggesting that the federal courts (presumably, he wants to keep them up and running) are the only defense against overreaching agencies like the SEC.
"The shadow government in DC is out of control and the federal courts are our only remaining line of defense against the lawless rogue behavior of three-letter government agencies. This decision is strong and paves the way to keep Bitcoin and blockchain innovations in the US instead of overseas."
Data mining: Grayscale increases AUM by over $1 billion following court victory
Grayscale's flagship product, Grayscale Bitcoin Trust, increased its assets under management (AUM) by nearly $1.2 billion following the asset manager's court victory. This boosted the overall AUM by 7% to a total of $17.4 billion, according to provider CCData. However, this was only a small ray of sunshine in a dreary August. The digital asset market saw a 12% decline in AUM to $29.7 billion last month. Just two weeks ago, Grayscale itself managed over $18 billion.
FT Cryptofinance is edited by Philip Stafford. Please send your thoughts and feedback to cryptofinance@ft.com.